reviews
Partnerships & Certifications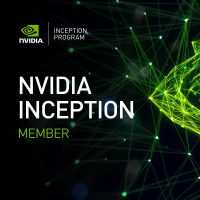 NVIDIA inception program
Member
As a member of the NVIDIA INCEPTION PROGRAM, we have the opportunity to partner with leading experts in the field of Artificial Intelligence and Big Data. Each Inception member receives a personalized set of ongoing benefits, such as NVIDIA Deep Learning Institute credits, GPU tools, technology, and support.
NVIDIA Sdk
Deep Learning Institute
Premium Trainings and Workshops

AWS Amazon
Member
AWS Activate provides startups with a host of benefits, including AWS credits*, AWS support plan credits, and architecture guidance to help grow your business. Activate benefits are designed to give you the right mix of tools, resources, and expert support so you can succeed with AWS while optimizing performance, managing risk, and keeping costs under control.
Cloud Computing
Machine Learning
Virtual workstations
Internet of things

Oracle for Startups
Member
When you're ready to grow your business, Oracle offers connections into product integration teams, media outlets, and a global base of customers who are hungry for startup innovation.
Customer connections
VC engagements
Mentorship
Technical support

Emilia Romagna Startup
Member
EmiliaRomagnaSTARTUP is the ART-ER initiative for startups and aspiring entrepreneurs with innovative business ideas.
Customer connections
VC engagements
Mentorship
Technical support